Forward Planning
The following is a select portfolio of Forward Planning projects that Joe Bonner has worked on in his role as a planner, in either the public and public sectors. If you have any queries in relation to the Land Use Zoning, or if you want to make a submission to a Development Plan, Local Area Plan or Regional Planning Guidelines contact Joe at 087 7509637.
Development Plan Submissions



Joe has prepared submissions for Development Plans and Local Area Plans throughout Ireland.
Submissions issues range from strategic policy and the provision of infrastructure at a county or town level to site specific Land Use Zoning.
As an example, Joe was part of a team that prepared a submission for and successfully achieved a 'Local Zoning Objective' (LZO) in respect of c.60 acres of land to the immediate north of Citywest Hotel. The LZO now applies to the lands for the duration of the South Dublin County Development Plan 2010-2016.
The LZO is set out in full below and subject to the making of a planning application will facilitate a significant expansion of the leisure facilities available at Citywest Complex.
LZO 9. Citywest Destination Resort Complex, Saggart
Facilitate the development of major leisure facilities in line with Policy EE28: Major Leisure Facilities at Citywest Destination Resort Complex, Saggart, including: health and spa tourism facilities, an integrated dedicated holiday park for families and visitors, to enhance the comprehensive integrated holiday complex featuring high quality accommodation, conference and mixed activity facilities in existing buildings on site; and a large and small events arena.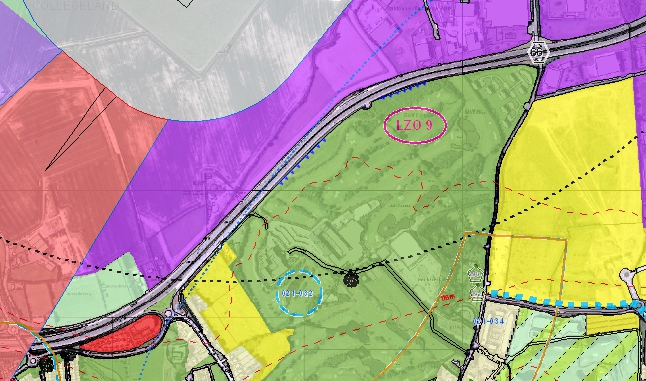 Zoning Map from South Dublin Development Plan with LZO 9 indicated
_____________________________
Development Plans / SEA
Castlebar and Environs Development Plan, Castlebar, Co Mayo
Joe managed and prepared all stages of the Castlebar and Environs Development Plan 2008, the Strategic Environmental Assessment (SEA) and Environmental Report on behalf of Castlebar Town Council and Mayo County Council.
The role involved regular attendance at Council meetings, meeting with Council officials, consultations, review of all submissions at pre-draft, draft and material amendment stages, preparation of Managers reports of submissions and recommendations to Council of the most appropriate development strategy.
Joe also prepared all maps and plans using AutoCAD software.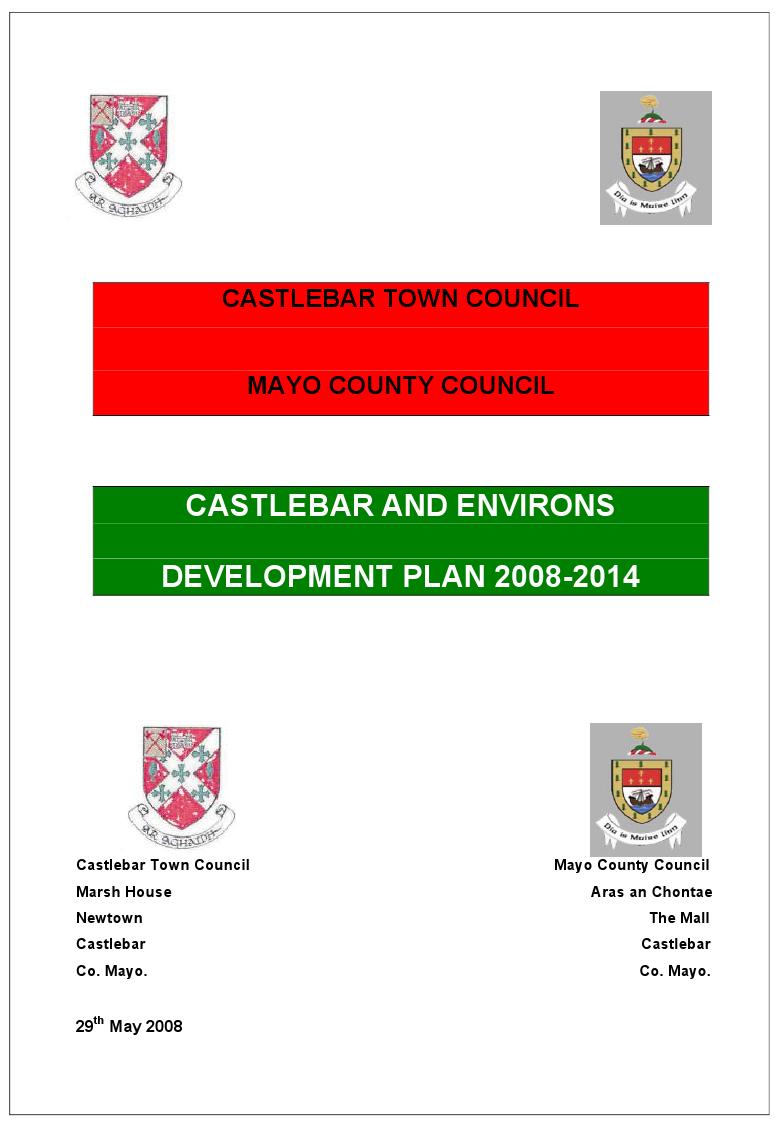 _____________________________________________
Strategic Environmental Assessment
Joe prepared the Scoping Report (2010) and Draft Environmental Report (2011) for the Barrysparks Local Area Plan 2011 on behalf of Fingal County Council.
Both the scoping report and the Draft Environmental Report were used in the public consultation phase for the Local Area Plan for a new sector in east Swords, Co Dublin.
His work included design team meetings with other contributors including transport, water, soils, archaeology and ecology as well as regular meetings with the Forward Planning Section of Fingal County Council.
The Draft Environmental report was completed in January 2011 and Local Area Plan was adopted in July 2011.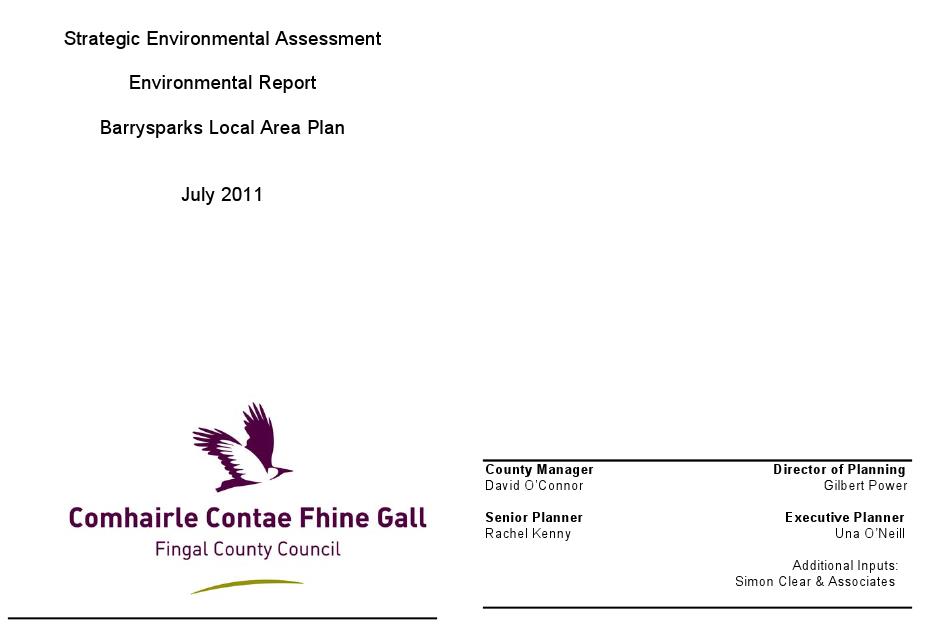 Draft Environmental Report prepared by Joe Bonner on behalf of Fingal County Council
________________________________
Dublin Institute of Technology
Part Time Lecturer
Joe lectured in the 'Spatial Planning' module for third year Degree students in Dublin Institute of Technology. The module, which was both lecture and studio based, required the students to prepare an evidence based 'Regional Housing Strategy for the Midlands Region' of Ireland.
The programme taught the students how to think at a regional scale and how to develop a strategy using an evidenced based approach, including analysis of existing national and regional population figures and forecasts, the quantity of planning permissions already granted and the quantum of existing zoned lands in each county and town.
The final project was presented to faculty members of the Spatial Planning School at the end of the spring term.